---
From left to right: Ryo Takarada, Chief Architect of Granbell Colombo, Kiyoshi Yasuno, Managing Director of Belluna Co. Ltd, and Mizukoshi Hideaki, Japanese Ambassador to Sri Lanka.
The Granbell Hotel Colombo has recently opened its doors, warmly welcoming all to experience a fusion of Japanese and Sri Lankan hospitality.
The property is owned and managed by Japan's leading Belluna Co. Ltd, a Tokyo Stock Exchange listed company. The Granbell Hotel Colombo adds to a growing portfolio of properties around the world owned and managed by Belluna Co. Ltd. The hotel chain includes 17 properties in Japan, one in Hawaii, one in the Maldives and two in Sri Lanka.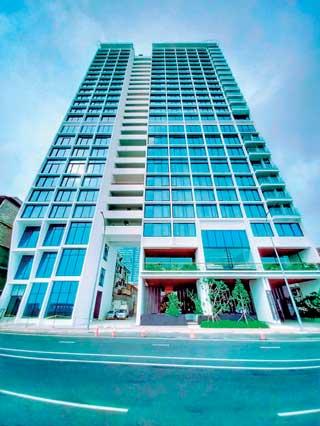 Chief guest, Japanese Ambassador to Sri Lanka, Mizukoshi Hideaki, along with several guests including Belluna Co. Ltd Chairman, Kiyoshi Yasuno, graced the hotel's launch event.
The launch of the hotel is part of the long-standing friendship between Sri Lanka and Japan, which dates back more than 70 years. The project started in 2016 with a foreign direct investment of US$60 million. The construction was carried out by Hazama Ando Corporation of Japan and was completed to the highest building standards, combining Japanese architecture and Sri Lankan craftsmanship.
Today, the hotel provides a wealth of employment opportunities to local communities, in a post-pandemic era, further bolstering the nation's economic recovery. The hotel guarantees high quality Japanese service standards and operations will be carried out with the utmost attention to detail and efficiency.
With a sustainable design concept with open-air corridors, Granbell Hotel Colombo is located close to Colpetty Station in the heart of Colombo and offers a host of exciting facilities and services. This includes a rooftop infinity pool and bar, gym, spa, yoga studio, dance studio, and all-day dining restaurant. The hotel features a blend of Sri Lankan and Japanese design and stylish interiors that match the coastal surroundings and views, promising an ideal island getaway.
Belluna Co. Ltd Managing Director Kiyoshi Yasuno said, "The Granbell Hotel Colombo not only seeks to become Sri Lanka's newest city break, but also to revitalize the entire hotel industry in the country. The hotel supports significant investment opportunities in Sri Lanka, which in turn will also explore opportunities in the hospitality labor market.
While the service chefs and staff are Sri Lankan, the hotel also brings Japanese expertise in terms of general manager and head chef to offer an authentic combination of
two cultures.