Content of the article
Familiar bright pink wrappers are popping up on grocery carts in Japan.
Content of the article
Confetti Sweets from Sherwood Park has made its way into the Japanese market with its cookie mix recipe. The deal was struck after the local cookie company was invited by the federal government to make a pitch to Costco under its CanExport program.
"We were super excited. We practiced our pitch for a month. We have worked with our consulate in Japan to ensure everything is in perfect condition. We made our pitch, but it was in the wrong department, it was in the bakery department, which wanted cookie dough, but that's not what we were selling. Fortunately, we were able to meet the right buyer and he said yes," recalls Kathy Leskow, CEO of Confetti Sweet.
The Leskow cookie trail has come full circle. Two decades ago, she lived in Tokyo for two years while teaching English. Whenever her mother sent mail or visited her, she would bring cookies since this country does not normally offer soft and chewy cookies, and she would share them with her Japanese students and friends.
Pen to paper was completed last July for the purchase contract, and the cookies were finally on the shelves in Japan in mid-April. A few delays like the pandemic and flooding in British Columbia slowed the process by a few months, but the company persevered. He has also worked closely with the Alberta Agriculture, Forestry and Rural Economic Development team and the Alberta International Office in Japan.
In order to increase production for the Costco order, Confetti Sweets sent its recipe to a manufacturing company in Yorktown, Saskatchewan.
Content of the article
After participating in the Foodex Japan virtual event, the bakery was featured in the Japan Food Trade Journal. The excitement surrounding the cookie mix has also heated up online.
"It's really exciting for me. We see a lot of social media from Japan. They tweet about how they made the cookies and they post pictures," Leskow said. "It brings back a lot of memories. A lot of people I know there contact me saying "oh my god, I can't believe your product is here in Japan". It's pretty cool that a company I did 20 years ago has come full circle and provided me with an opportunity in this cookie business that I didn't expect either.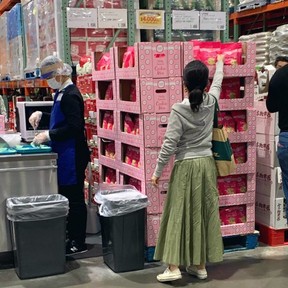 In October, Park's businesswoman will travel to Japan.
"I hope to meet some of the buyers and develop business relationships because in Japan that relationship part is so important and it's so hard to build that trust with people," Leskow said. "Personally, it's important for me to be here and to be able to expand into different countries."
Ironically, this is the company's first foray with Costco, but he's optimistic it can break into its North American market.
"It's a roundabout way into Costco, sure, but I think the Canadian cookie mix is ​​such a novelty for the Japanese that it's a good entry for us. Getting into Costco is really difficult. Safety standards and all the details, they are phenomenal for doing what they do. I think I wasn't exporting with Costco and doing all the steps myself, I think I would have had a bit of a challenge, but with them holding my hand every step of the way – literally speaking every evenings they are tough to get in, but once you walk into a Costco you know you've made it and can do anything.
Confetti Sweets' humble beginnings began at local farmers' markets, then grew into a local Park Bakery in 2014, and now sells its products at over 200 retailers across Canada.
lmorey@postmedia.com
twitter.com/LindsayDMorey