Bea Pernia of Bea Interiors Design designed the newly opened Roc Luxe hotel in Tulum, Quintana Roo, on the Caribbean coast of Mexico's Yucatán Peninsula. The Venezuelan-born Miami-based interior designer was inspired by Tulum's natural habitat. A 12-foot-tall egg-shaped organic dome with trees and palm trees passing through the holes greets guests as they enter the lobby. Bea worked with local artisans to design and manufacture most of the hotel's wicker and teak furniture. Bea's other hotel projects include Hiyakawa Restaurant and Crudos Art House in Miami.
Roc Luxe Hotel is a sprawling beachfront hideaway with 66 rooms, including beachfront bungalows, garden suites, and elevated jungle treehouse-style rooms accessible by a short tuk-tuk ride. . The property also includes a beach club with private cabanas, a rimless pool, mezcaleria, Casa Mar restaurant, soon to be opened omakase restaurant, gym and spa.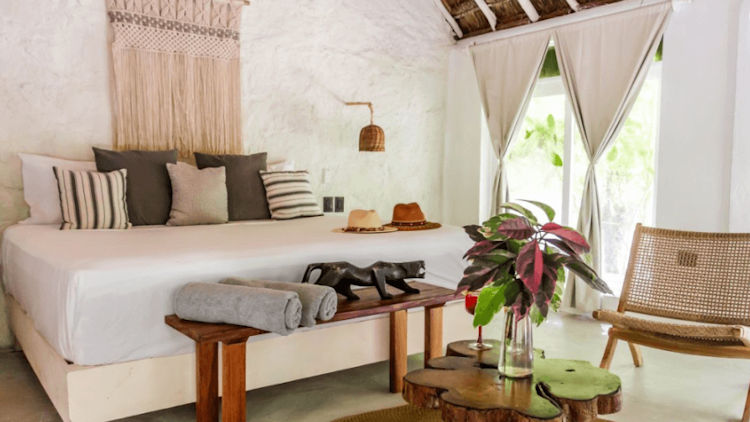 Nearby local attractions include Cenotes, Mayan Ruins, Coba Ruins, and Kaan Luum Lagoon.
ROC BEACH CLUB
The Beach Club has 3 full service cabanas, 36 sunbeds, 16 beanbags and 9 nests with over 60 meters of beautiful beach and blue waters. The luxury cabins are equipped with butler service via a call button.
CASA MAR
The main restaurant overlooking the beach club, ocean, and pool offers alfresco dining, a bar, and a menu of local Mexican cuisine and freshly caught seafood.
MEZCALERIA
La Mezcalería is a boutique bar inspired by a traditional Mexican canteen and offers a great selection of Mezcal.
SOKKIO
Sokkio is a new addition to the Roc Luxe property. The Omakase-style restaurant will be located in a Japanese garden and run by Michelin-starred chef Kamui Sumida.